Technique, Process, Exploration
Printmaking is about creating repeatable imagery through an indirect process. Whether you use lithography or screen printing, we guide you through the necessary materials, methods and applications of each media in a holistic way that you can grasp on multiple levels.
Art is about communication. Learning the language of art is a process in itself and we strive to provide our students with valuable experiences that will guide them through their own journeys, on their own terms.
Available Courses
Each course contains elements designed to guide you in a holistic journey through a particular method of printmaking. Use video tutorials, downloadable worksheets, practical exercises and quizzes to increase your knowledge and expand your practice.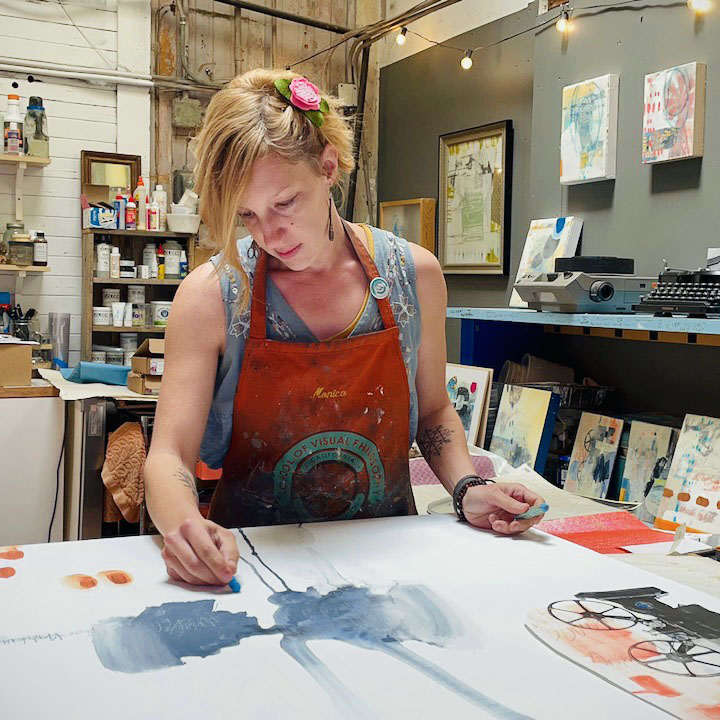 Meet your Instructor
Hi! I'm Dana Harris Seeger. I am a native Californian, tied to my Baltic roots in symbols, sight, sound and spirit; making art and advocating for art education in the heart of Silicon Valley. I co-created the School of Visual Philosophy with my husband, Yori in 2013. I really enjoy merging fine art with technology in my artwork, my business and now with my teaching.
Get a glimpse of what you will learn
Watch this interactive video to see an example of how we structure our courses. We know you learn in all kinds of different ways, and our curriculum reflects the unique learning styles of our students as well as the holistic way we teach.